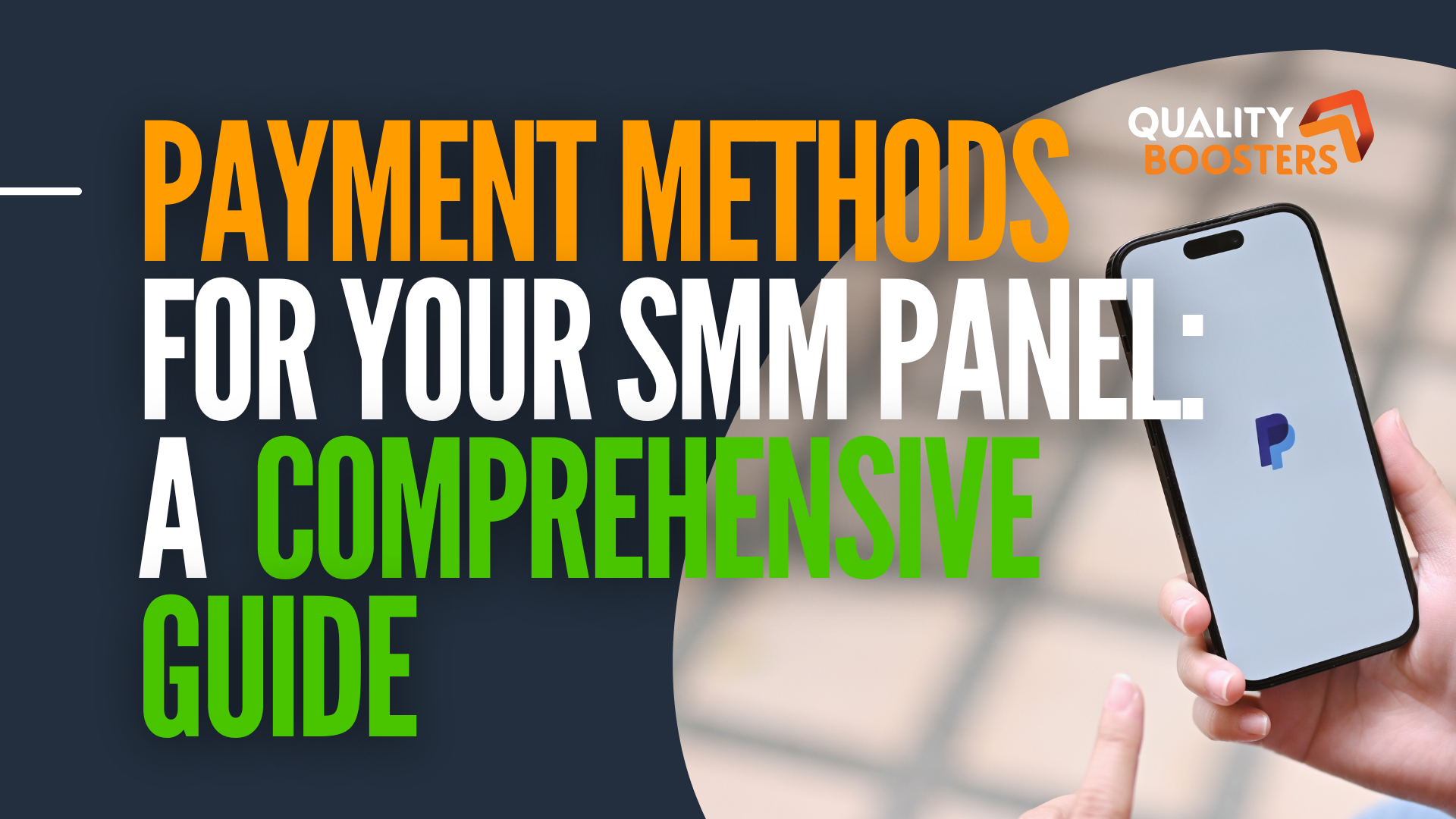 Payment methods for your SMM Panel: A comprehensive Guide
In the dynamic world of Social Media Marketing, having a clear understanding of how SMM Panels operate is crucial.
QualityBoosters, know as the Premium SMM Panel, stands out as a leader in providing SMM services for platforms such as Instagram, YouTube, TikTok, Facebook, Telegram, and Twitter. With a client base that spans globally, we are committed to offering payment methods that cater to our clients' diverse needs.
This article will guide you through our payment options, showcasing how each can enhance your experience with us and support your growth on social media.
Originating from India, Paytm has quickly become one of the most used payment methods, especially for SMM panels like ours.
Advantages:
User-friendly with clear instructions for various transaction types.

No extra fees for using the wallet or associated services.

No minimum deposit amount; with PayTm, you can deposit as much as you wish.
Globally recognized, PayPal ensures secure and protected transactions, making it ideal for SMM service providers.
Advantages:
Using the Friends and Family option, you won't incur any fees.

Transaction security ensured by sophisticated protection systems.

Protection for both the buyer and the seller.

Widely accepted internationally.
Stripe is a modern solution for businesses looking to accept online payments simply and securely.
Advantages:
Easy and flexible integration with various systems and platforms.

Advanced security to protect transactions and customer data.

Accepts a wide range of payment methods.
Known for its extensive geographical coverage, PayOp is a popular choice among SMM panels in India and beyond.
Advantages:
Broad geographical coverage.

Easy integration with various systems.

Competitive and transparent rates.
Emerging as a popular payment option in Pakistan, Cashmaal offers fast and secure transactions.
Advantages:
100% secure transactions with advanced encryption systems.

User-friendly with an intuitive interface.

Competitive and transparent rates.
Bank Transfer
Despite the advent of new payment methods, bank transfers remain a reliable and secure choice.
Advantages:
Secure transactions.

Ideal for large sums of money.

Globally accepted.
Perfect Money combines the convenience of electronic payments with the security of traditional transactions.
Advantages:
Secure and protected transactions.

Various deposit and withdrawal options.

Real-time currency conversion.
With the rising popularity of cryptocurrencies, Coinbase Commerce allows businesses to accept payments in Bitcoin, Ethereum, and other cryptocurrencies.
Advantages:
Secure and private transactions.

Low transaction fees.

Global accessibility.
Direct Cryptocurrencies
In addition to Coinbase Commerce, QualityBoosters also offers the option to make payments with direct cryptocurrencies.
Advantages:
Completely private and secure transactions.

Low transaction fees.

Fast transactions.
Choosing the right SMM panel can make a difference in your social media marketing strategy. QualityBoosters, known as the Premium SMM Panel, is your ideal ally for services like IG Followers, YouTube subscribers, Telegram post views, and more. Each payment method we offer has been selected with you in mind, ensuring smooth and secure transactions. Whether you're looking to boost your presence on Spotify or expand your client base on Twitter, we ensure you can focus on what matters most: building your online presence and engaging with your audience.
Discover a service truly dedicated to your success in the social media world. Join us now!